WHAT TRIP DO YOU NEED FOR YOUR GROUP?
YOUR INCOMING TRAVEL AGENCY SPECIALIZED IN GROUPS 
We completely adapt the accommodation, activities, visits and the rest of the services according to the type of group. We fully tailor made any the program.
We create unforgettable and affordable experiences for schools and students in general. We can create a tailor made program adapted to the budget, the objective of the trip and the type of activities. Security, guarantee and safety.
We'll do our best to achieve an unforgettable experience for the group. We create a tailor made program focused on the budget or the needs of the group, culture, art, music, nature, gastronomy, etc.
Incentives, meetings, seminars and congresses. We design the program tailored to your objectives, prioritizing the optimization of time and resources and we complement it with leisure or cultural activities.
Routes through Spain. We can prepare an itinerary according to the wishes of the group. General or thematic routes: oenology, religion, culture, traditions, nature, beaches, adapted to the size of the group, ages, budget or any other requirement.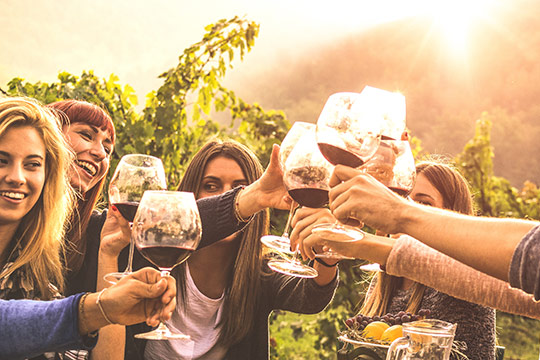 Visites or small routes to unique locations, for those groups with limited time. Are you on a cruise? We can offer the best proposals to the group, always tailor made and adapted to the group needs, so you can take the most of it.
We have many surprises for groups. "Must do" activities, Gaudí and modernism, gastronomy or cultural activities; without forgetting original proposals such as wine tasting, painting workshops or experiences for the deluxe groups.
LET US KNOW, SO WE CAN HELP YOU
We love to work closely with you, so we can adapt to any need you have for your group trip. Do not leave it, write to us now and we will send you a tailor made proposal.
WE CREATE YOUR GROUP TRAVEL
We are an incoming group travel agency and DMC, for corporate trips, tourist and leisure groups and school and students tours.
When we receive your request, we work together with you to prepare the best program fully adapted to the needs and budget of the group. We include everything needed for the trip to exceed expectations and objectives. We take care of everything to achieve a unique experience.
We are great specialists in Barcelona, ​​Madrid and Spain in general. Furthermore, thanks to our long experience of more than 20 years, we can also organize groups and stays in Paris, Rome, London or any other large European city.
You are in good hands. We offer guarantees of all kinds and, above all, the support and care of our expert team to ensure that the trip is everything the group needs.
Do business, learn or enjoy, but always living great experiences with our proposals.
Contact us now and start organizing this new trip.
Working with Magnific Groups (former Barcelona On Line) is a guaranty of success. Do not hesitate.
20 years with you
We create unforgettable and affordable experiencies for groups. 
Specialists
We have the structure and the background to manage the needs of your group.
100% tailor made
We listen to the wishes of the group, contribute with ideas and create a personalized program.
Organization
We have all the resources to ensure that everything goes according to plan.
Security
Detrailing programming, control and 24-hour support to solve any eventuality
Flexibility
We adapt the stages prior to the trip to fit your needs
Affordable
We adapt to the budget with optimization, without reducing the quality.
Close to you
Your group will be special. We like to make friends and be by your side at all times.
Member of ACAVE, board of directors
Member of Barcelona + Sustainable
Affiliated to ART & CULTURE brand in Catalonia
Let's start! Do not wait longer. We will contact you and will prepare for you  a personalized program at no cost.